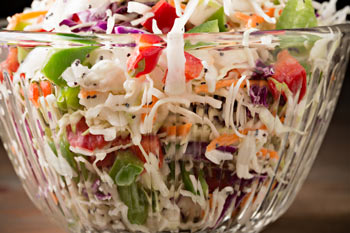 If you're interested in expanding your produce repertoire, consider how you use cabbage and capsicum (the pepper family).
Both of these healthy foods are packed with flavor, loaded with nutrients, and can dress up your meals from salads to sides to main dishes.
Cabbage and peppers are available in a variety of lovely colors, too, so use them to add beauty to your plate.
Health Benefits of Cabbage
Cabbage is a cruciferous vegetable like kale and broccoli. Green is the most common color, but it also comes in purple and red.
Below are some of the health benefits associated with including cabbage as a regular part of your diet.
Cabbage contains fiber that helps with digestion and keeps you feeling full.
There are only about 30 calories in a 1/2 cup of cooked cabbage, so you can feel full without overeating.
Vitamins C and K are plentiful in cabbage. Vitamin C is critical for skin and connective tissue health and helps boost the immune system and fight inflammation. Vitamin K helps blood to clot properly.
Cabbage contains many phytonutrients. These are substances that keep plants healthy and have also been shown to be beneficial to humans' health. Among the phytonutrients that cabbage contains are lutein, kaempferol, and quercetin. Red cabbage contains high levels of anthocyanins, which act as a powerful antioxidant to fight inflammation in the body.
Fermented forms of cabbage such as sauerkraut and kimchi contain probiotics, healthy microbes that aid in good digestion and many other aspects of health. You can read more about probiotics in our article, "Maintain a Healthy Gut for Healthy Weight Loss."
You can sneak extra cabbage into your diet by shredding it and adding it to soups and salads or chopping it and adding olive oil and seasonings for a cold salad. Make coleslaw by shredding carrots and cabbage and adding mayo, sugar, vinegar, and spices. Shredded cabbage can make a great, crunchy alternative to lettuce on sandwiches.
Health Benefits of Capsicum
Capsicums, or peppers, are available in huge variety. From bell peppers to jalapenos to chipotle peppers, the choices are almost endless.
Many peppers contain the substance capsaicin, which provides the "heat" in hot peppers. Bell peppers and some others lack capsaicin, while jalapenos, cayenne peppers, and others like them contain varying amounts of it.
Members of the pepper family contain many substances that are of benefit to people. Here are just a few of the health-boosting properties of capsicums:
Peppers are high in vitamin C, especially red bell peppers. Joint and immune system health can both be boosted by vitamin C.
Carotenoids, phytochemicals in red peppers, can help decrease a woman's breast cancer risk.
B6 and folate are high in all types of peppers. These B vitamins can help lower the risk of heart disease and stroke.
Capsaicin in hot peppers can increase feelings of fullness, lower calorie intake, and decrease pain (Mary-Jon Ludy, 2011) (Deal CL, 1991). It may also prevent the buildup of cholesterol and even help resolve plaques already present in arteries (Society, 2012).
Add peppers to your everyday foods by chopping them and putting them in soups and salads. Sauté them and add them to egg dishes or pile them on sandwiches to add flavor, fun, and nutrition.
Final Words
As you can see, cabbage and capsicum are great additions to a healthy diet. We've even created a way to use them together and harness the awesome power of probiotics for digestive health in our recipe: "Easy Homemade Sauerkraut."
Works Cited
Deal CL, S. T. (1991, May). Treatment of arthritis with topical capsaicin: a double-blind trial. Retrieved from pubmed.gov.
Mary-Jon Ludy, R. D. (2011, March 1). The effects of hedonically acceptable red pepper doses on thermogenesis and appetite. Retrieved from Science Direct: DOI: 10.1016/j.physbeh.2010.11.018.
Society, A. C. (2012, March 27). Hot pepper compound could help hearts. Retrieved from Science Daily.
You May Also Like These Articles/Recipes:
Can You Lose Weight by Eating Spicy Food?
Glucomannan: A Different Source of Fiber
Refined Carbs: What Are They and How Do They Hinder Weight Loss?