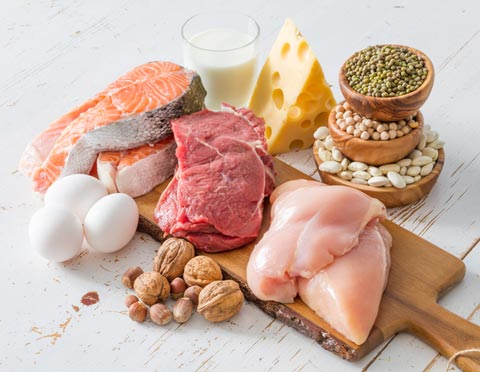 Protein is a nutrient that can have a big effect on how quickly and effectively you lose weight. Here, we'll explore the ways protein can aid your diet plan.
Protein Affects Hormones That Control Appetite
Consuming protein lowers the hormones that cause you to feel hungry and increase the ones that help you feel full.
There have been numerous studies indicating that eating protein results in a drop in the hormone ghrelin, which causes hunger, and an increase in GLP-1, peptide YY, and cholecystokinin; all hormones that tell your brain you're full.
So eating a higher protein diet can help you take in fewer calories because you don't feel hungry as often.
In one study, overweight men who ate restricted calorie diets that were high in protein felt fuller, had fewer cravings, and didn't have as much nighttime eating tendency as those who ate calorie restricted diets with normal protein levels (Heather J. Leidy, 2011).
So, not only do you take in fewer calories when you eat a high protein diet but you also automatically have reduced cravings and tendency to eat at night, which probably means you'll reduce your sugar and empty calorie intake.
Breaking Down and Using Protein Uses Calories
Burning calories is extra important when you're losing weight, and protein gives you more bang for your calorie-using buck.
When you eat, your body uses energy in the form of calories to digest and use the food. Protein takes more calories to break down than carbs or fat (Weigle DS, 2005).
Muscle Loss Is Less with High Protein Diets
When you are on a restricted calorie diet, your body may lose muscle along with fat. However, this doesn't happen as much or at all when you have increased your protein intake. And, since muscle in your body burns more calories, keeping it intact and healthy helps you lose weight even faster.
Ways to Get More Protein into Your Diet
You can get more protein into your diet by increasing the following foods:
Meat
Fish
Legumes
Eggs
Dairy
Almonds
Oats
Broccoli
Brussels sprouts
Learn how eating "Protein for Breakfast" can help you lose even more weight.
Always check with your doctor before making a major diet change. There may be medical reasons why a high protein diet might not be right for you.
Works Cited
You May Also Like These Articles/Recipes:
10 Reasons to Decrease Your Stress
Aerobic Exercise: Fun Activities for Weight Loss
Can You Lose Weight by Eating Spicy Food?