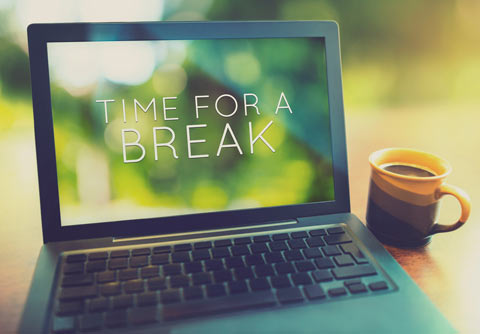 You've probably heard that it's important to manage your stress well and try to relax as much as possible. And everyone knows that chronic stress doesn't feel very good.
Here, we've compiled some specific health problems that stress can cause or exacerbate, so you'll better understand why reducing stress is critical to your health and well-being.
Headaches
A large study looked at whether people who reported higher stress levels also experienced a greater frequency of headaches. The results showed that there was a correlation between stress levels and headaches (Sara H Schramm, 2014).
Managing your stress may help you decrease the frequency and intensity of your headaches.
Trouble Sleeping
In 2004, a study was published on how stress can impact the development of a sleep disorder. A group of 816 workers who did not previously have sleep problems were followed for one year.
The results of the study showed that a stressful work environment doubled a person's risk of developing sleep problems (Linton, 2004).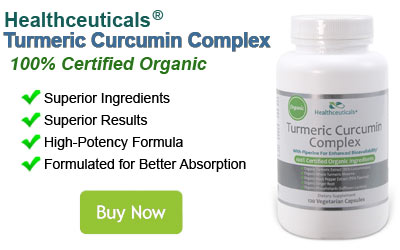 Sleep is extremely important to a person's health and happiness. You can learn more here: "14 Surprising Health Benefits of Sleep."
Sugar Cravings
If you're battling a sugar addiction, stress isn't your friend. In animals, stress has been shown to affect food choices, increasing sugar and fat intake (Potenza, 2014g).
Emotional eating, exacerbated by stress, can result in weight gain and a higher risk for many health problems, including diabetes and heart disease.
A Weakened Immune System
Scientists are still uncovering the delicate and complex relationship between stress and the immune system. It's clear that chronic stress can wear the immune system down, resulting in an increase in illnesses and perhaps even more serious diseases (Miller, 2004).
Poor Digestion
Stress affects the gastrointestinal system by diverting blood away from your GI tract, causing it not to work as well. Chronic stress also disrupts the normal gut flora, making it harder for your body to use your food properly.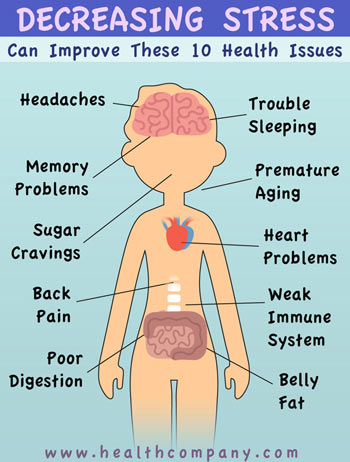 Heart Problems
Researchers looked at the records of a large group of people who started a new job without evidence of heart disease and then developed it over time. They found that the incidence of coronary disease was higher in those who reported greater workplace stress (Prof Mika Kivimäki, 2012).
Increased Belly Fat
Studies have shown that increased cortisol, the stress hormone, is related to higher amounts of belly fat in women (Epel ES1, 2000). Belly fat correlates to an increase in health problems and diseases.
Impaired Memory
Studies in rats have shown that memory is impaired by repeated stress (Eunice Y. Yuen2, 2012). It makes sense to consider that this may be the case in humans, as well, because it's common for people under chronic stress to be particularly forgetful. This, of course, can add to a person's stress, when important tasks are forgotten.
Premature Aging
Chronic work stress actually affects your DNA, causing it to age more than those who don't have such stress (Kirsi Ahola, 2012). It's reasonable to think that other forms of non-work-related stress may have the same biological effects.
Increased Back Pain
Chronic back pain affects millions of people in the United States, and its incidence is worsened by stress. In fact, researchers have found that stress-reduction techniques like meditation and behavioral cognitive training are more effective in relieving chronic back pain than more mainstream treatments such as opioids (Daniel C. Cherkin & al, 2016). You can learn more here: "Using Mindfulness to Treat Chronic Back Paing."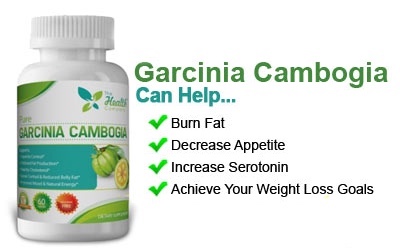 Ways to Manage Stress
Now that you're even more convinced that stress management is crucial for your health, what can you do about it?
Our partners at DeStress.com have lots of ideas for you, including:
And don't forget, exercise is powerful stress relief. Get yourself moving, and you will feel the benefits of less stress and increased health. Even better, get outside to get your exercise. Then, the powerful stress-reducing sunshineg can do its work.
Works Cited
You May Also Like These Articles/Recipes:
Getting Back to Sleep: 14 Tips for Falling Back to Sleep When You Wake up Too Soon
Maintain a Healthy Gut for Healthy Weight Loss
Stress' Effects on Your Digestive Health: VIDEO