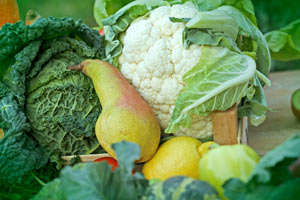 This fall, if you're thinking about how you can kick-start your diet to get the most out of the last couple months of 2016, so you can meet your weight loss goals, look no further. We've chosen a fruit and a vegetable that both fit beautifully into a high fiber, low carb diet to curb cravings and support weight loss.
Health Benefits of Cauliflower
Cauliflower is a versatile vegetable with a mild taste. It lends itself well to being added to a variety of recipes and spiced different ways for varying flavors. It is a member of the same group of vegetables as broccoli: the cruciferous family. Because broccoli has a tendency to receive more fame than cauliflower, you may be surprised to find out that this creamy white vegetable is a superfood too.
Some of the great benefits of cauliflower include:
Cauliflower, combined with curcumin (present in the spice turmeric) may be able to slow or stop the development of prostate cancer. This has been shown to be the case in mice and is due to the substance phenethyl isothiocyanate that is present in cauliflower (Khor TO1, 2006). Prostate cancer rates are low in India, where cauliflower and curcumin are eaten together regularly.

Other substances that are present in cauliflower have been shown to reduce instances of breast, colon, bladder, and lung cancers.

Cauliflower contains nutrients that fight inflammation and neutralize free radicals in the body, which can harm healthy cells and result in disease.
One serving of cauliflower contains 77% of your daily recommended Vitamin C. This nutrient is a powerful antioxidant that also helps with wound healing and bone health.
There are a wealth of nutrients present in cauliflower that help maintain proper health and function of body systems. Vitamin B6, folate, Vitamin K, magnesium, and potassium are just a few of the nutrients that cauliflower is packed with.
Cauliflower is high in fiber, which aids in digestion and helps you feel full.
Tips for Getting the Most Nutrient Bang for Your Cauliflower Buck
Here are two tricks for getting the most nutrient value out of your cauliflower.
Don't boil it. Boiling cauliflower makes it mushy, a consistency that many people dislike. Eating boiled cauliflower may make you believe you don't like this tasty vegetable. Boiling also strips some of the healthy nutrients from your cauliflower. Steaming is a better option, and sautéing is even more likely to help you retain as much of your cauliflower's health benefits as possible.
Let it sit for five minutes. When cutting cauliflower up florets in preparation for cooking, let them sit on the counter for five minutes before cooking them. This helps release some of the nutrients so they can be better used by your body.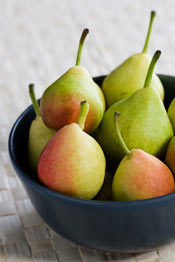 Health Benefits of Pears
If you're looking for a fruit that pairs well with your serving of cauliflower, search no further than the versatile pear.
One pear contains 12% of your daily Vitamin C requirements. Pair a pear with a serving of cauliflower, and you're up to 89% of your daily recommended Vitamin C. No scurvy for you!
Pears are high in fiber. Good levels of dietary fiber aid in weight loss and help prevent heart disease and diabetes as well as contributing to good colon health. In fact, consuming pears or pear juice regularly can help treat or prevent constipation.
Pears contain the mineral boron, which helps your body retain calcium and keep bones healthy and strong.
Pears, like cauliflower, contains high levels of folate, which is especially important to a developing fetus during pregnancy.
Pears can have antioxidant effects on the body, neutralizing free radicals that can cause disease.
Tips for Eating Pears
Eat the skin. Pear skin contains the most dietary fiber, so eating it is important for reaping the pear's maximum health benefits.
Wait for it to turn yellow. Pears are picked green and ripen off of the tree. Let your pear sit on the counter until it is yellow like a ripe banana. Placing pears in a closed paper bag will ripen them faster.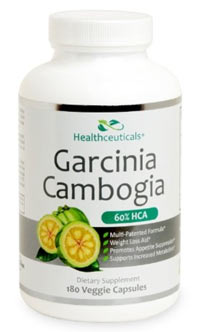 Cauliflower and Pears: Part of a Healthy Family Diet and Great for Weight Loss
Both cauliflower and pears are high in dietary fiber and low in carbohydrates. This makes them great foods for weight loss. Fiber helps you feel full longer so you don't overeat, and pears are sweet enough to curb cravings for more unhealthy sugary foods.
These two food items are also both wonderful ways to introduce fruits and vegetables into the diets of pickier family members. Because they are both mild-tasting foods, it's easy to find ways to get them into the food plans of even the most suspicious of fruit- and vegetable-avoiding people. Take a look at our Cauliflower Mashers recipe for one idea on how to introduce more cauliflower into your family's diet.
Garcinia Cambogia: A Great Way to Boost the Power of Your Healthy Diet
You are finding ways to get more cauliflower, pears, and other healthy fruits and vegetables into your diet so you can lose weight healthfully. However, you may still be struggling with cravings and getting rid of stubborn belly fat. Consider that adding a Garcinia cambogia supplement to your diet can be an easy way of adding fuel to your weight loss fire. Garcinia cambogia has some great weight loss benefits including:
Increasing serotonin levels to improve your mood and decrease stress-eating.
Inhibiting the formation of fat from carbohydrates in your diet.
Works Cited
You May Also Like These Articles/Recipes:
Maintain a Healthy Gut for Healthy Weight Loss
How to Drink More Water in 5 Easy Steps
14 Surprising Health Benefits of Sleep
Asparagus and Avocados: A-List Appetite Pleasers
Healthy Blueberry and Kale Smoothie
Fast Morning Fixes for the New Year and Beyond
Are Green Smoothies Dangerous?