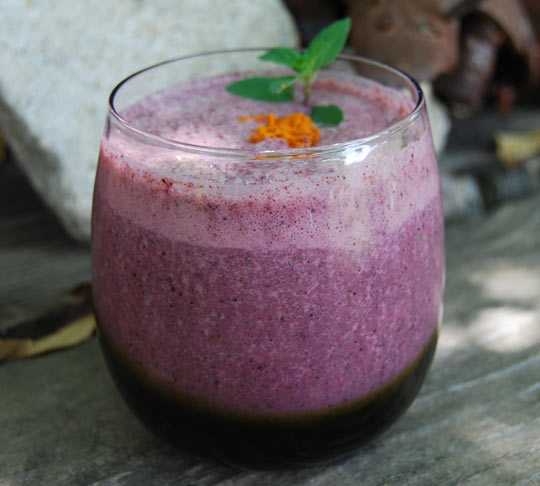 The health benefits associated with including the superfoods kale and blueberries regularly into your diet can be astounding. And turmeric is a delightfully delicious spice that packs a powerful immune-boosting, inflammation-fighting, antioxidant punch to help you stay healthy and strong. If you're in a hurry and can't spare the time to chew up all that healthful fiber, or if you just want a delicious way to prepare these nutrient-dense treats, this smoothie recipe is certainly for you.
Serves: 1
Total Time: 5 minutes
Ingredients:
1 cup blueberries

3/4 cup almond or coconut milk *

1 cup kale

1/4 cup plain Greek yogurt *

1 teaspoon fresh turmeric (or 1/2 teaspoon dried turmeric)

1/2 teaspoon fresh ginger

1/8 teaspoon cinnamon (optional)

Honey, maple syrup, agave, or stevia to taste

Ice

Water or more coconut milk as necessary to achieve proper consistency
* Yogurt and milk may be replaced with 1 cup kefir
Directions:
Add all ingredients to a blender and blend until smooth. Note: Frozen blueberries and/or ice will make the smoothie thicker.
Add water or more almond or coconut milk to reach the consistency you like.
You can learn more about the health benefits of blueberry and kale in this informative article, "Kale and Blueberries: September Superfoods."
Find out more information about the amazing properties of turmeric at turmeric.com.