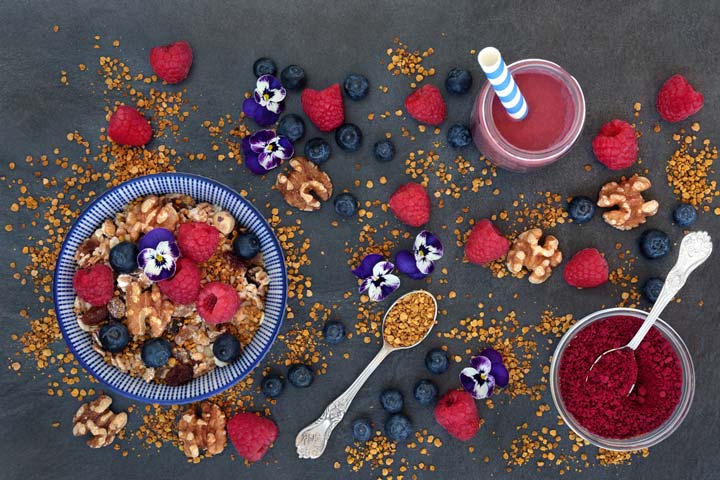 We are all looking for ways to prevent the development of cancer in our bodies. While it isn't possible to avoid every risk factor because there may be toxins in the air, water, and food, we can do a lot of things to avoid exposure. We can also take steps to fight the damage that these toxins can do to our body and lower our risks of developing cancer. One way to do that is by choosing to include certain foods in our diets that are known for their ability to fight the formation of free radicals, support a healthy immune system, and aid in normal cell function. Below are five such foods.
Açaí Berries Help Fight Cancer
Açaí (ah-sah-EE) berries are from a type of South American palm tree. They contain resveratrol, a powerful polyphenol compound in plants that is healthy for humans who ingest it.
Resveratrol has been linked with many cancer-fighting properties, including the ability to interfere with the life cycle of a cancer cell. It may also aid in the regulation of hormones which, when unbalanced, can create a cancer-friendly environment.
Açaí berries contain many other beneficial compounds as well, including some that act as antioxidants to fight free radicals in the body. In fact, açaí berries have more antioxidants than most other fruits.
It's difficult to get fresh berries out of the Amazonian forests and across the world, so most of the time, you'll find them available in dried powder, juice, or frozen puree. Açaí is also increasingly used as an ingredient in many healthy foods, including snack bars and mixed fruit yogurt. You can learn more here: "Açaí: Anticancer Palm Berries from the Amazon."
Açaí berries are not particularly sweet, and many people describe them as tasting like a cross between blueberries and dark chocolate. A great way to incorporate more açaí into your diet is to add dried acai powder to a smoothie. You can also add frozen açaí puree to yogurt.
Avocados Are a Cancer-Fighting Food
An avocado a day can provide many benefits, including helping you reduce your risk for certain cancers. Avocados provide monounsaturated fats, which are good for heart health. They are also packed with cancer-fighting compounds, especially antioxidants that help neutralize free radicals. Carotenoids, which are powerful phytonutrients, are plentiful in the dark green portion of the avocado closest to the skin. These carotenoids can be protective against some cancers and are also probably responsible for the eye health benefits of avocados.
Avocatin B, another beneficial compound found in avocados, has been shown to have the ability to fight acute myeloid leukemia, a rare type of cancer (Lee EA, 2015).
Avocaodos are versatile and easy to include in any meal. Here are some ideas:
Make smoothies with them.
Mash them up and eat them on toast.
Make guacamole.
Add them to salads.
Use them to replace mayonnaise on sandwiches.
Use them in place of the bread on your tuna sandwich, for a healthy tuna bowl.
Blueberries Fight Cancer
Blueberries contain powerful phytochemicals including resveratrol, the same substance that is in dark grapes and, subsequently, red wine. Additionally, blueberries have many other free radical-fighting antioxidants and nutrients, including vitamin C. Many animal studies have exhibited blueberries' ability to fight various types of cancer. Learn more here: "Benefits of Blueberries."
Blueberries can fit easily into a healthy diet. Here are some ideas:
Top your steel cut oatmeal with some blueberries in the morning.
Add a few blueberries to your salad for a sweet burst of flavor.
Combine a cup of blueberries with a handful of heart-healthy nuts for an afternoon snack (like the walnuts discussed below).
Make a smoothie. Our delicious Turmeric, Blueberry, and Kale Smoothie can help you absorb the benefits of blueberries combined with those of our next cancer-fighting food, kale.
Kale Is a Superfood That Fights Cancer
Leafy green vegetables, including kale, have loads of cancer-fighting nutrients, including vitamin C, folate, vitamin K, and several minerals. Broccoli and spinach are both part of this leafy greens, or cruciferous, vegetable family.
Specifically, research indicates that kale can reduce the carcinogenic substances that can be formed when someone eats nitrates, like those in processed meats. Additionally, compounds in kale can help boost the immune system, helping it to fight cancer, kill cancer cells, and improve the efficacy of cancer treatments. You can learn more here: "Cancer-Fighting Health Benefits of Kale."
Here are some ways to get more kale into your daily diet:
Make a smoothie, like this one: Turmeric, Blueberry, and Kale Smoothie.
Add a bit of kale to other leafy greens in your salad.
Use kale instead of lettuce on a sandwich.
Add kale during the last 5 minutes of cooking when making soup.
Finely chopped kale is a great addition to omelets or scrambled eggs.
Make kale chips.
Walnuts Are Cancer Fighting
Walnuts are high in antioxidants (in the form of flavonoids and polyphenols), which fight cell-damaging free radicals in the body. Additionally, they contain many other vitamins and nutrients that can contribute to the overall health of cells and boost the immune system, which both decrease cancer risks. You can learn more here: "Cancer Fighting Effects of Walnuts."
It's easy to add walnuts to your diet. Combine them with blueberries and top your oatmeal with them, add them to baked goods, toss some onto your salad to add a delightful crunch, or simply have a handful for an afternoon snack.
References
Lee EA, A. L. (2015, June 15). Targeting Mitochondria with Avocatin B Induces Selective Leukemia Cell Death. Retrieved from pubmed.gov: DOI: 10.1158/0008-5472.CAN-14-2676.