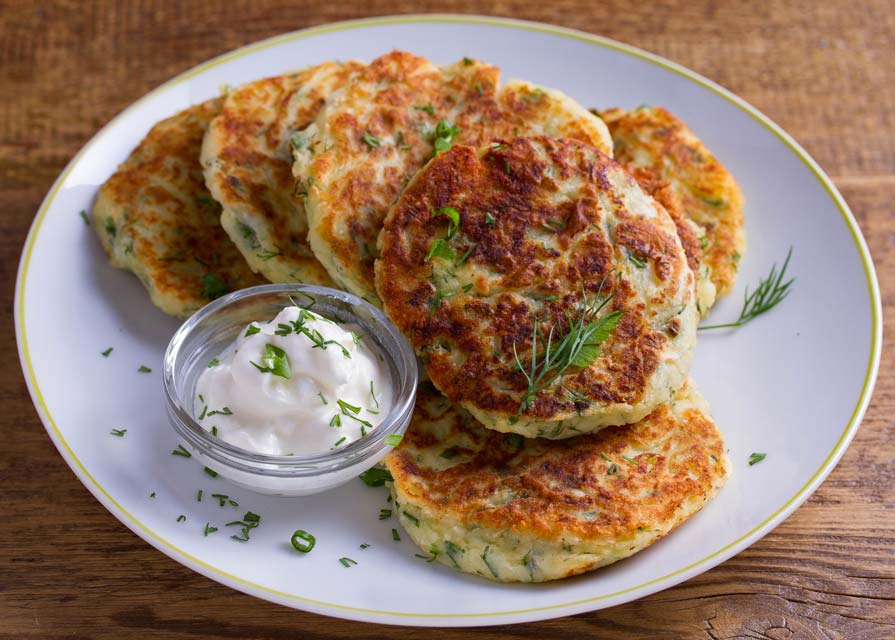 These easy, fast fritters are great to keep on hand for snacks. You can also top one with a microwave poached egg for a healthy breakfast. Start with this basic recipe, and then it's easy to adjust the spices to make them exactly the way you like them.
Serves: 12
Total Time: 30 minutes
Ingredients:
1 cup raw cauliflower florets, grated or riced*

3 shallots, minced and sautéed in butter or avocado oil until translucent

1/2 cup almond flour

1/2 teaspoon baking powder

1 cup grated cheese of choice (parmesan, cheddar, and pepper-jack all work great)

1 and 1/2 teaspoons lemon pepper

3 large eggs

Avocado oil
Directions:
In a medium-sized bowl, combine cauliflower, sautéed shallots, almond flour, baking powder, cheese, and lemon pepper. Mix well.
Add eggs and mix until combined.
Place a skillet over low heat until warm.
Add 1 teaspoon olive oil to pan and warm for 30-60 seconds.
Use a 1/4 cup baking cup to scoop fritter mixture into pan, then flatten with a spatula.
Cook for 3 minutes per side or until golden brown, then remove to plate lined with paper towels to drain.
Serve warm.
Can be stored in the refrigerator and reheated in a warm skillet with no oil.
Can be stored in the freezer between layers of parchment paper and microwaved for 30-45 seconds when ready to eat.
* Rice your cauliflower by washing it well, cutting the florets into pieces, and placing them into a food processor. Grind until you have uniform, rice-sized pieces. Save the stalks for soup.