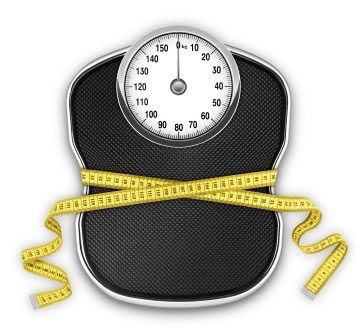 In a world full of instant gratification and constant comparisons, we yearn to see very clear and concise data when it comes to our weight loss efforts. Stepping on a scale may sound like a very quick and efficient way to measure your success but it may actually hide a lot of the progress from you. The best way to fully witness the changes in your body is to literally measure it. All you need is a tape measure. Pick one up for just a couple of dollars at a local sewing or craft shop. You may still choose to track your weight occasionally, but remember that muscle weighs more than fat and is also leaner. Especially if you are incorporating exercise into your lifestyle, muscle gain may disguise the loss of fat in that number flashing below your feet. Don't be discouraged—grab your tape! You should take at least four separate measurements on a regular basis. If you are looking for more long-term results, weekly measurements should suffice. You may choose to take daily measurements if you're on more of a short-term plan but the changes will probably be a little smaller from day to day. Start by taking your before measurements. The first and final sets of measurements should be the most thorough. Holding the tape flush to your skin, yet not too tightly, wrap it around your body, and record the amount in inches. It may be beneficial to devote a specific journal or folder to this data so that it is all in one convenient place for you. Here are the body parts you will be measuring for the before and after set:
Bust: around the upper body, including the breasts
Chest: around the rib cage, just below the bust
Waist: usually the smallest part of the upper body, above the hips and below the rib cage
Hips: around your hip bones, below your stomach and at the top of the pelvic region
Upper Arms: around each arm, about 1-2 inches below the armpit (2 separate measurements)
Thighs: around each leg, about 3-5 inches below the pelvic region (2 separate measurements)
For your weekly (or daily) measurements, feel free to leave out the upper arm and thigh measurements as you will probably see the least amount of overall change here unless you are following a vigorous exercise plan. The first four (bust, chest, waist and hips) will provide you with an accurate account of change throughout your weight loss adventure. Don't forget to take down your final measurements! Then, compare:
How has your body changed?
Have you gone down a dress size?
Is your waist slimmer, creating a smoother and more feminine silhouette?
Helpful Tips
Take before and after photos with your camera or smartphone.
Download an app to your smartphone or tablet to keep track of your results.

MyFitnessPal: This detailed app allows you to track much more than just your measurements and weight! You can also set goals, record your diet and exercise, receive feedback and support, and take part in public forums where you can chat with people experiencing the same challenges and successes. Plus, you can create a profile and view your results from any device connected to the web. The best part--it's free!
A+ Weight Manager: This is a much more basic app but allows you to do what is most important. You can periodically record your weight and measurements, then view the data in an organized list or graph. Your information can be password-protected, which is great in case you share the computer or device with family or friends and would like to keep everything private.