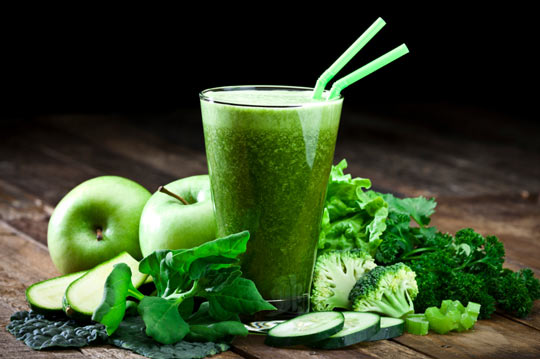 Green smoothies can be healthy and delicious. Adding spices and coconut water can boost the already-substantial nutrition of this easy-to-prepare snack.
Serves: 1
Total Time: 10 minutes
Ingredients:
2 cups green, leafy vegetables, rinsed and dried *See Note 1

1 cup cucumbers, sliced

1 tablespoon fresh ginger, minced, or 1/2 teaspoon ground ginger

1 tablespoon fresh turmeric, minced, or 1/2 teaspoon ground turmeric

1/2 teaspoon ground cinnamon

2 tablespoons chia seeds, soaked *See Note 2

1/2 cup coconut water *See Note 3

Other fruits and vegetables as desired *See Note 4
Directions:
Add all ingredients to blender.
Blend to desired consistency.
Serve immediately.
Notes:
Spinach, arugula, and kale are good options. Using a mixture of greens helps mitigate the strong flavors of each plant.
Soak whole chia seeds for 10-15 minutes before adding them to your smoothie to increase digestibility.
Add more to reach desired consistency.
Add frozen strawberries, blueberries, or cranberries if desired.