Ground beef is getting more and more expensive, so it's crucial to make a little go a long way. Prepare this mixture of ground beef and hearty vegetables to reduce your demand for hamburger. The outcome--added nutrition without sacrificing flavor or fill.
Here is a recipe that incorporates leftover broccoli stalks with onion and ground beef to beef up your burger.
Serves: 4-6
Prep Time: 10 minutes
Cook Time: 20 minutes
Ingredients:
1 lb

ground beef

1-2 cups

broccoli stalks

, chopped*

1

medium onion

(white or sweet, depending on your preference)

4

cloves garlic

, minced

2 tablespoons

cooking oil

(vegetable, canola, or other high-heat oil)

Salt and black pepper

, to taste
Directions:
In a large, deep skillet, heat cooking oil. Add onion and broccoli stalks, and sauté until the onions begin to sweat Ground Beef, Onions, Broccoli and Garlicand turn barely translucent. Broccoli should be slightly tender and bright green.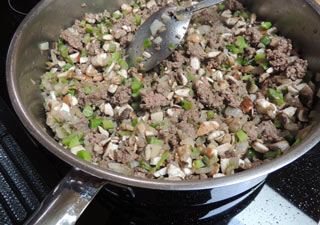 Add garlic and sauté until fragrant, about 30 seconds. Add ground beef to pan. Cook until beef is no longer pink, stirring frequently.
Season the meat to your liking with salt and pepper.
Notes:
You can use the mixture to replace standard beef in your favorite recipes. It is delicious when used in chili and spaghetti sauce.
Remember, if you are replacing 1 cup of beef, use 1 cup of the mixture since it is intended to help stretch your ground beef as far as possible to save you money.
*If you are using a regular head of broccoli, peel the stalks before chopping; they can be tough and a little bitter.
However, if you are using broccolini or another tender variety, you can use the entire stalk.